ST-MD57H all-in-one stepper motor driver
1. Wide input voltage range: 24 to 45V operation;
2.8 file current optional; max current:4A;
3. High subdivision: 14 file subdivision optional, up to 256subdivision;
4. Heat dispersion: using high performance imported chip ensuregood heat dispersion;
5.Small size: with overall dimension of 57mm*57mm, and thicknessof 25mm, it can be integrated with the motor conveniently;
6. Low cost: the integrated unit is better than domestic similarproducts for its high integration degree, and may truly reduce thecost of driver to a great extent.
ST-MD57H all-in-one stepper motor driver


Port1~2: 12- -45VDC wide input voltage;
Port3: connect +COM (+5v) signal power port;
Port4: connect CP (PUL) Pulse signal;
Port5: connect CW (DIR) direction signal;
Port6: connect ENA (FREE) off-line signal;
DIP switch: 123 combination for the current selection, 456combination for segmentation.
Dimensions(外形图): unit=mm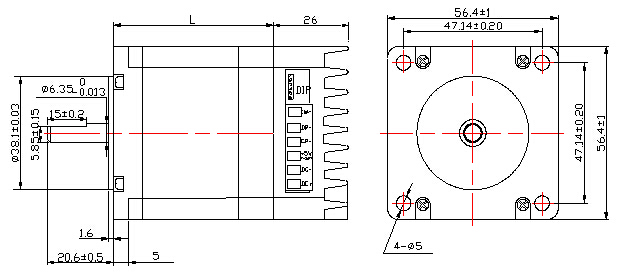 | | | | | | | | |
| --- | --- | --- | --- | --- | --- | --- | --- |
| K1, , | K2 | K3 | 细分 | K1, | K2, | K3 | 细分 |
| ON | ON | ON | 2 | OFF | ON | ON | 64 |
| ON | ON | OFF | 8 | OFF | ON | OFF | 128 |
| ON | OFF | ON | 16 | OFF | OFF | ON | 10 |
| ON | OFF | OFF | 32 | OFF | OFF | OFF | 20 |
| K4, | K5 | K6, | 电流 | K4, | K5 | ,K6 | 电流 |
| ON | ON | ON | 0.6 | OFF | ON | ON | 2.5 |
| ON | ON | OFF | 1.2 | OFF | ON | OFF | 3.1 |
| ON | OFF | ON | 1.5 | OFF | OFF | ON | 3.4 |
| ON | OFF | OFF | 2.1 | OFF | OFF | OFF | 4 |