ST-MD42H all-in-one stepper motor driver

ST- MD42 all-in-one stepper motor driver is a new productreleased in April 2014. It is a completely new product which Breakthrough the traditional concept, put stepper motor & drivertogether perfectly.The all-in-one stepper motor driver is createdindependent innovation by Sutai company. More importantly, it isthe first product with high subdivision. It has many advantages ofhigh subdivision, low noise, small size, good heat dissipation andsimply wiring compared with similar products.

ST-MD42H stepper motor with driver basic features


1. Wide input voltage range: 9 to 30V operation;
2.8 file current optional, max current: 2A;
3. High subdivision: 8 file subdivision optional, up to 128subdivision;
4. Heat dispersion: using high performance imported chip ensuregood heat dispersion;
5. Small size:With 43 2mm width, and thickness of 18mm, it can beintegrated with the motor conveniently, also can be separated;
6. Low cost: The integrated unit is better than domestic similarproducts for its high integration degree, and may truly reduce thecost of driver to a great extent.
ST-MD42H stepper motor with driver terminal port
Port1~2:12- -36VDC wide input voltage;
Port3: connect+COM(+5v)signal power port;
Port4: connect CP(PUL)Pulse signal;
Port5: connect CW(DIR)direction signal;
Port6: connect ENA(FREE)off-line signal;
DIP switch:123 combination for the current selection,456combination for segmentation.
●Dimensions(外形图): unit=mm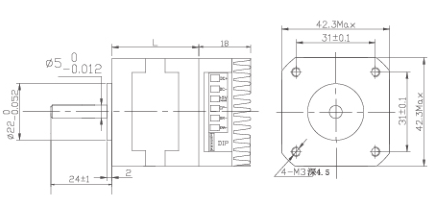 | | | | | | | | |
| --- | --- | --- | --- | --- | --- | --- | --- |
| K1, , | K2 | K3 | 电流 | K1, | K2, | K3 | 电流 |
| ON | ON | ON | 0.4 | OFF | ON | ON | 1.3 |
| ON | ON | OFF | 0.6 | OFF | ON | OFF | 1.5 |
| ON | OFF | ON | 0.8 | OFF | OFF | ON | 1.7 |
| ON | OFF | OFF | 1.0 | OFF | OFF | OFF | 1.9 |
| K4, | K5 | K6, | 细分 | K4, | K5 | ,K6 | 细分 |
| ON | ON | ON | 1 | OFF | ON | ON | 16 |
| ON | ON | OFF | 2 | OFF | ON | OFF | 32 |
| ON | OFF | ON | 4 | OFF | OFF | ON | 64 |
| ON | OFF | OFF | 8 | OFF | OFF | OFF | 128 |